In Mexico and other countries it is very common that credit cards give you points for your purchases, in the Netherlands this is not so common, in the article Pay your flight at interest free months I mentioned a credit card that gives you airline miles for your purchases.
Recently when I was looking for a spending tracking app I discovered an app that gives you cash back for your purchases. This app is called Woolsocks and it offers cashback, that is, you get back part of the money you spent on a purchase. They usually give you back a percentage of the amount you bought at certain merchants.
Developed by two DEGIRO founders, Woolsocks is an app that gives you cashback on your purchases. Besides that it helps you to have a better overview of your expenses as it automatically classifies them into different categories. Remember the 50/30/20 rule mentioned in the post How to make a quick household budget?
One of the outstanding features of Woolsocks is its ability to seamlessly connect to all your bank accounts, using PSD2 regulations. This connection allows you to effortlessly monitor and categorise your expenses and income. Through intuitive graphs you can get a clear overview of your financial situation, facilitating informed budgeting and spending decisions.
How does it work?
Woolsocks goes beyond simple financial tracking. By linking your bank accounts, you unlock a world of rewards. Imagine receiving automatic cashback on everyday spending and exclusive in-store discounts. Whether you're shopping at your local supermarket or making purchases online, Woolsocks ensures you save smart. Accumulated rewards find a home in your 'rewards sock', a digital piggy bank from which you can withdraw savings or contribute to charitable causes.
To receive these rewards, you must have a bank account connected in the "Accounts" section. Every time you make a purchase at a participating shop, you will receive an automatic reward and cashback in your Woolsocks rewards sock within two days. Reward percentages vary by shop, and you can receive up to 5 euros per month for the first 3 months and 2.50 euros per month thereafter. You can also receive up to £0.50 per merchant per month. After activating Automatic Rewards, you will receive a special one-off reward for your previous purchases. You can get up to €5 in your Woolsocks account based on all Auto Reward transactions made in the last 90 days.
Which stores participate?
Many businesses are participating, you can search in the app for businesses in your area, and online shopping is also participating. Participating businesses include, among others:
Hema
Kruidvat
H&M
Thuisbezorgd
Amazon
MediaMarkt
Uber Eats
Jumbo
Lidl
IKEA


Save on online shopping and gifts
Perhaps the most attractive feature of Woolsocks is its online shopping and gift card section. The range of online retailers offering cashback is quite large (even KLM is among the participants) with cashback percentages ranging up to 14% in the case of Amazon, in the case of gift cards the reward percentages can be up to 6%. Inside the app you can see how to get these rewards percentages.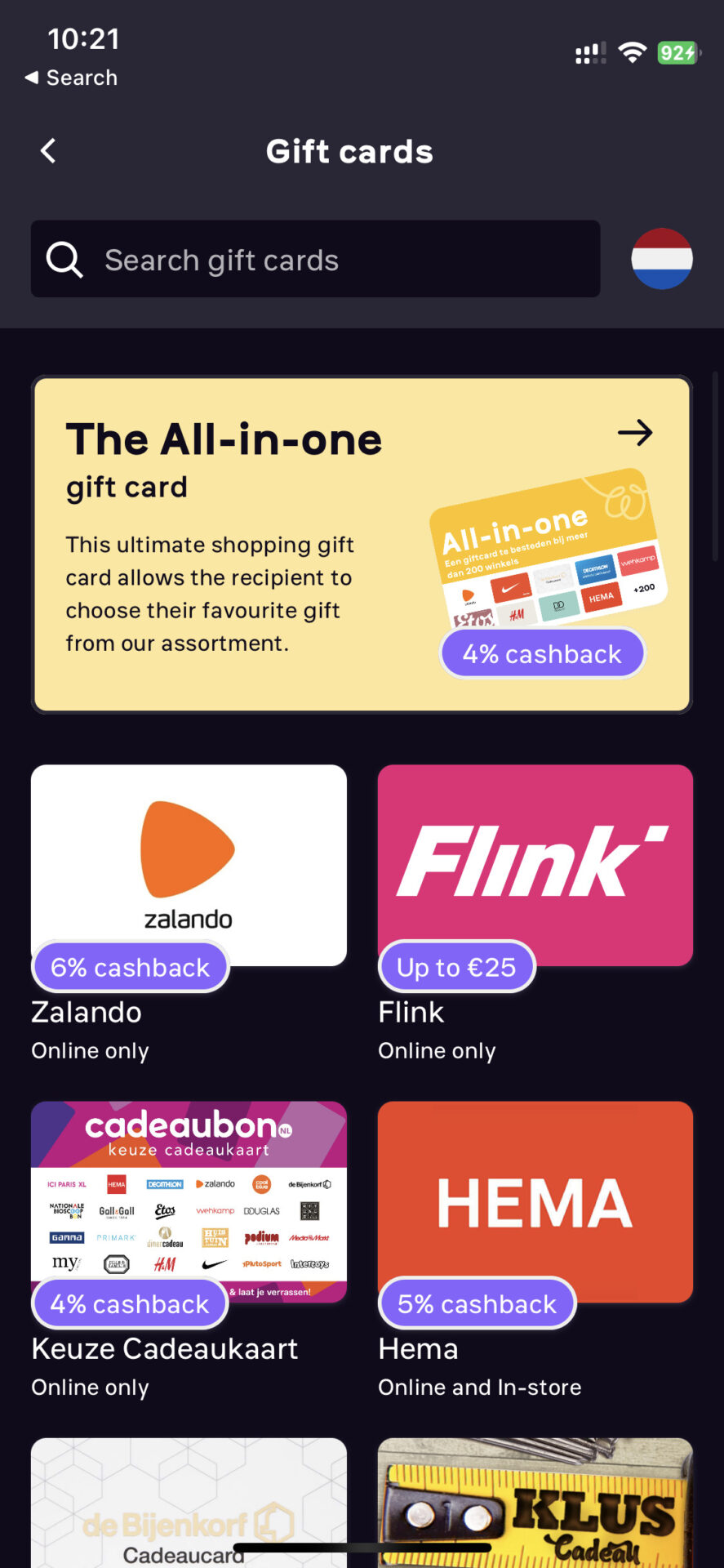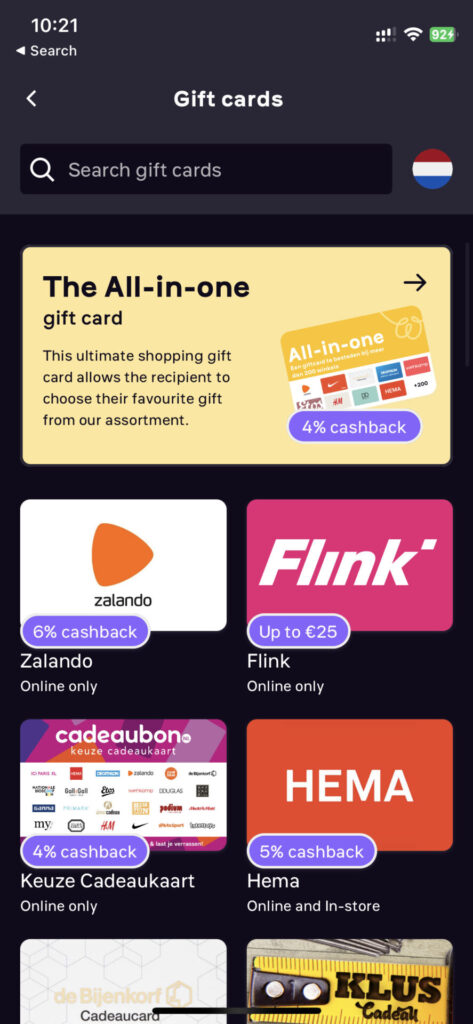 If you would like more information about the service or to sign up for the Woolsocks app you can click on the banner below. By doing so, you will help support the blog and future articles.

Cancel those zombie subscriptions
Has it happened to you that you have subscriptions that you don't use and you haven't cancelled them due to lack of time or laziness? Here Woolsocks takes the guesswork out of it by identifying and highlighting these unnecessary expenses. With just one click, you can easily cancel these subscriptions, helping you regain control of your finances, all at no cost.
Is it safe?
Woolsocks uses the PSD2 (Payment Services Directive 2) regulation, a European Union law that ensures that online payment services are secure and meet certain requirements. A PSD2 licence is an authorisation given to a company to offer online payment services and comply with PSD2 requirements.
To obtain the PSD2 licence, companies have to demonstrate that they are trustworthy and secure. PSD2 sets stricter rules for data security and authentication of online transactions, so businesses must ensure that they comply with these standards.
Having a PSD2 licence means that the company is compliant and is regularly monitored to make sure it remains compliant, so if you see that a company has a PSD2 licence, you can feel confident that your online payments are in safe hands!
Conclusion
Woolsocks is a comprehensive and innovative financial management app with several unique features. If you are looking for an app that gives you cashback and helps you get a better overview of your spending this is the app for you.