Peer-to-peer (P2P) lending platforms are online sites that connect lenders and borrowers directly, without the intervention of a traditional financial institution such as a bank. This means that if you want to invest in a P2P platform, you would be lending money directly to other people or businesses instead of to a bank.
This post is about one of those platforms. Its name is Mintos, I opened an account with them in 2020 and I was investing some months there. I stopped doing it because of the pandemic but now I have taken it up a bit.
Mintos is a loan-based investment platform (P2P) that allows investors to invest in loans from around the world. Investors can choose from a variety of loan types, including agricultural loans, commercial loans, car loans and more. Mintos is licensed and supervised by the central bank of Latvia.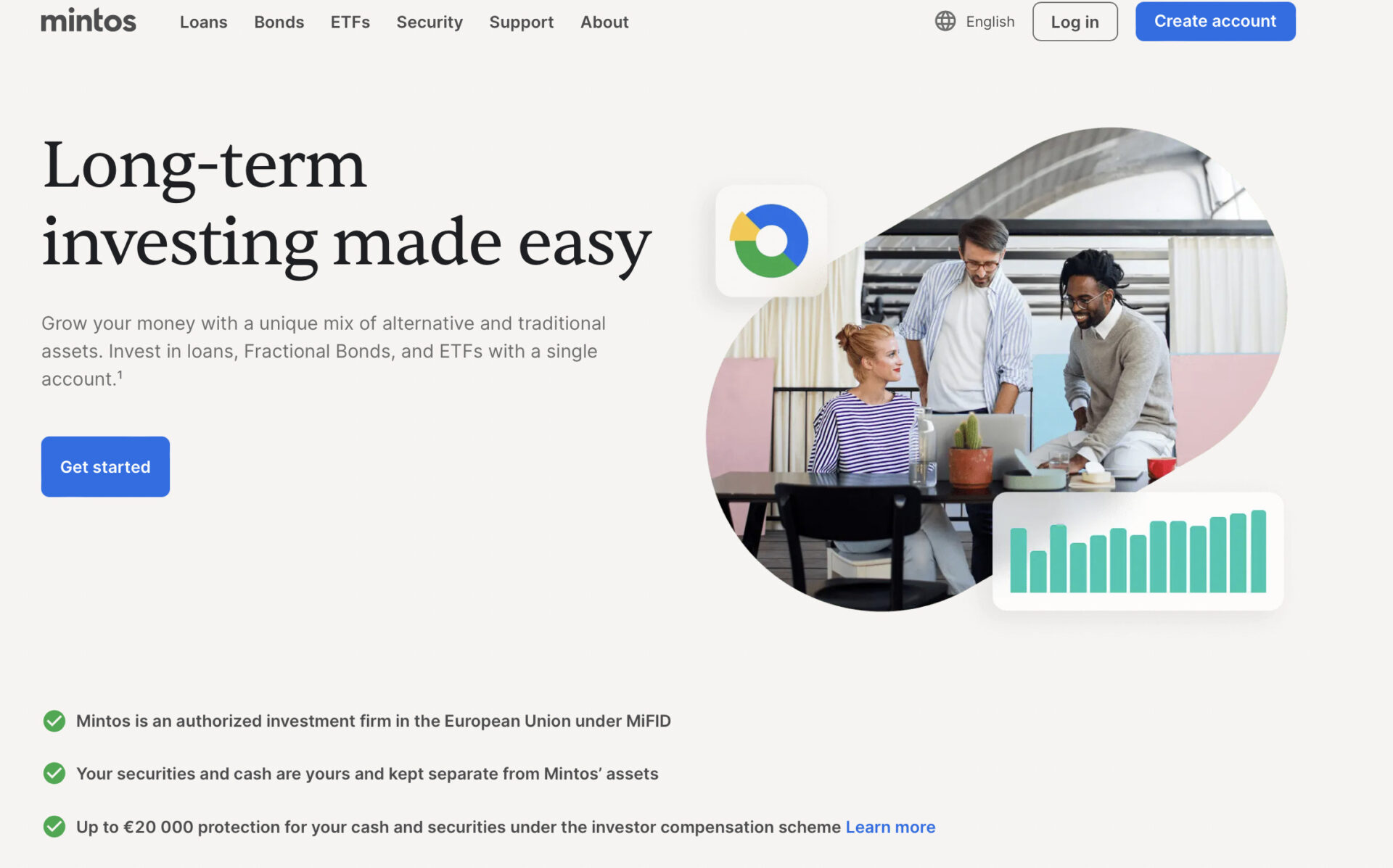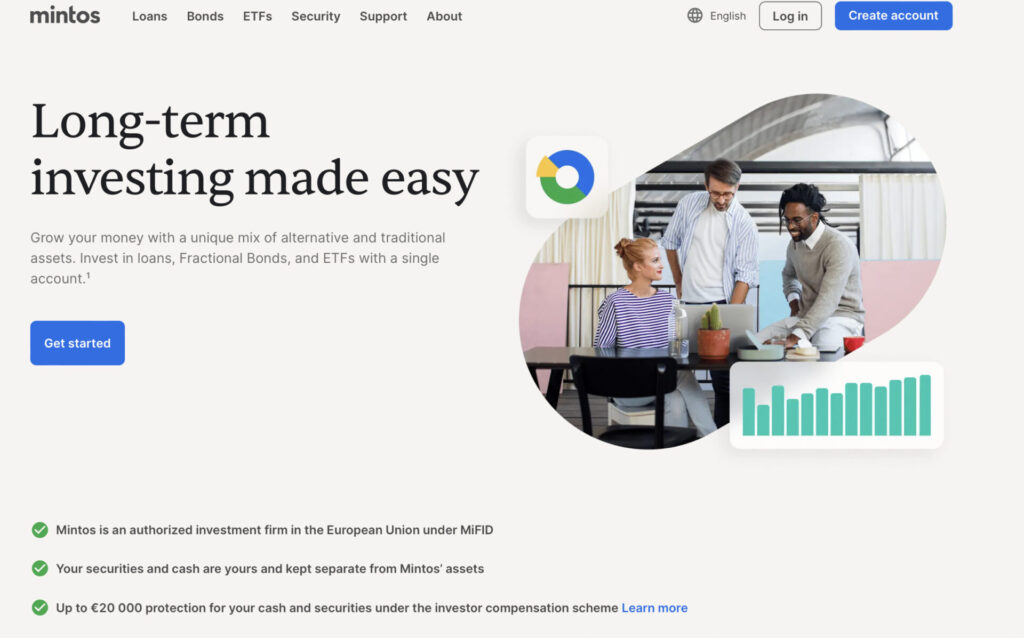 How can you invest in Mintos?
Instead of lending money directly to an individual, Mintos offers "Notes". Notes at Mintos are like little pieces of loans that investors can buy. Imagine that there are many similar loans, like pieces of a jigsaw puzzle, and they are grouped into Notes so that investors can invest in them. When you buy a Note, you have a piece of all those loans together. Each Note has a special code and a small value, and is issued by a Mintos entity. When borrowers pay back the money, investors receive a share of that money based on the Notes they hold.
To invest in "Notes" in Mintos, you need to buy at least 5000 of them, but this gives you the opportunity to diversify your investment across many different loans. It is a regulated and safe way to invest in loans and earn money when borrowers make their payments.
There are two ways to invest in Mintos:
Individual Mintos strategies: You can invest in individual loans, that is, loans from a specific person or company.
Investment strategies: Mintos offers a variety of investment strategies that allow you to diversify your investments.
I invest in customised strategies such as Mintos Core, as it is the easiest and most time-efficient way.
What are the returns?
Depending on the type of strategy, yields currently range between 4-21% per annum. The riskier the counterparty of the loan the higher the yield. In the image below you can see the current yields.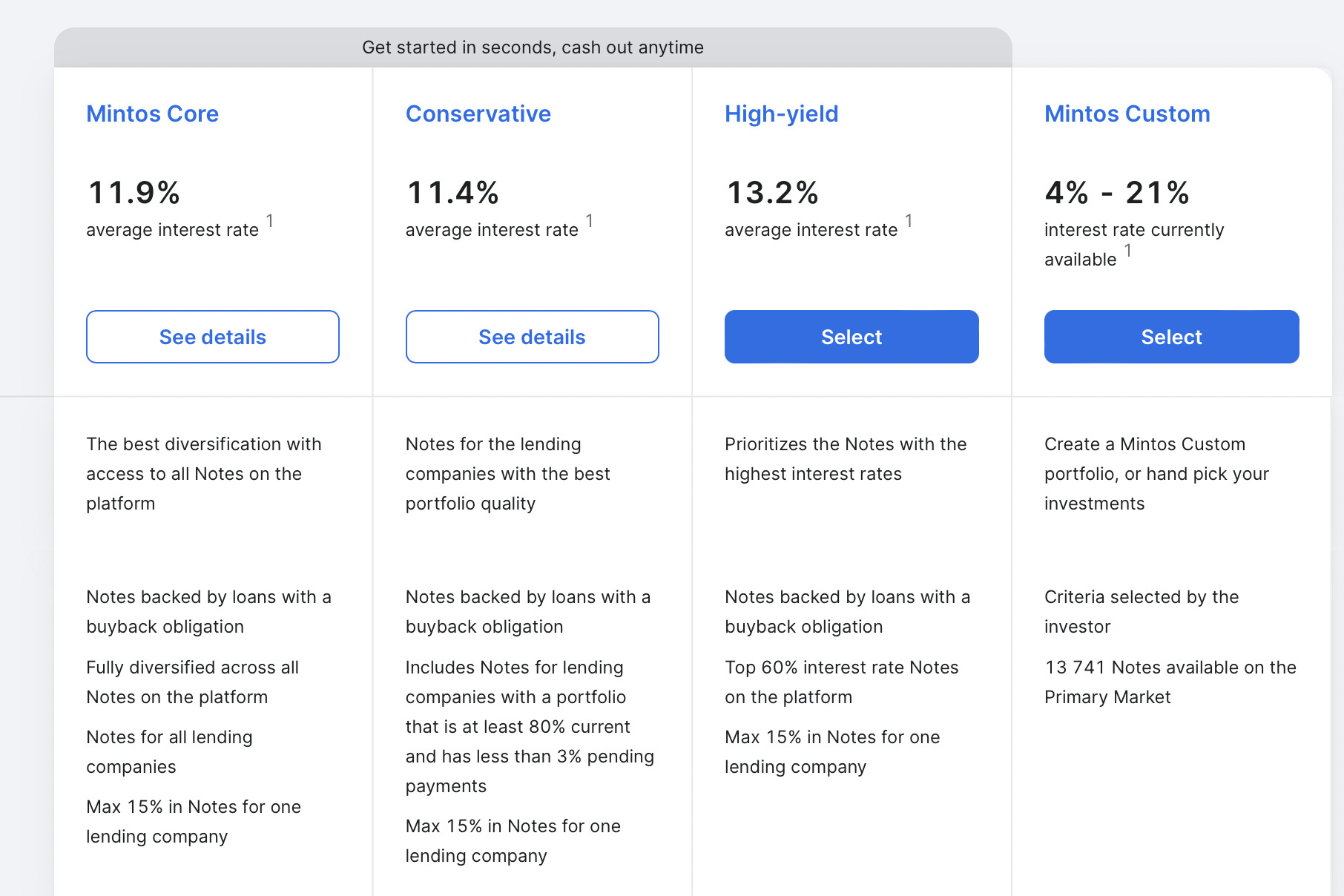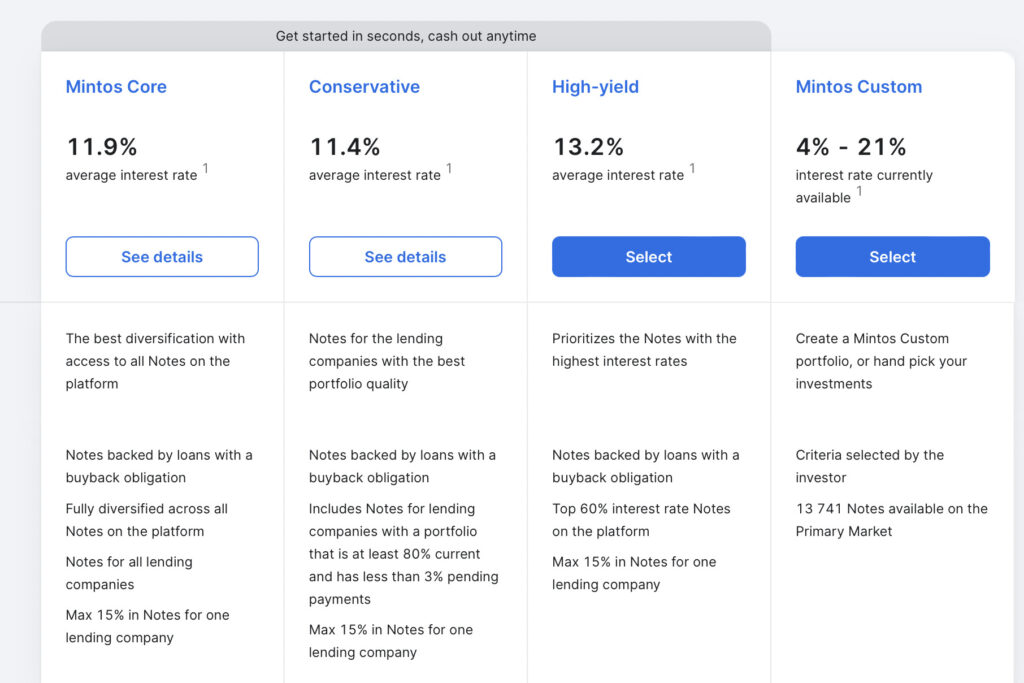 What fees apply?
Investing at Mintos is free. There are no fees for opening an account or for depositing or withdrawing funds. Reduced and transparent fees apply when converting currencies or selling loans on the secondary market, as well as when you have uninvested funds in your account after months of inactivity.
How long is the invested money "blocked"?
The time during which the invested money remains "locked" in Mintos depends on the conditions set out in the repayment schedule of each loan. This lock-in period is determined by the maturity and repayment method of the loan in which you have invested.
If you wish to receive your money before the stated maturity date, you have the option to sell your Notes investment on the Mintos secondary market. In this market, you have the flexibility to add a premium or apply a discount to the price of your investment, allowing you to adjust the speed of liquidity of your investments to suit your needs.
In the event that you invest in one of the investment strategies such as Mintos Core, the money can be withdrawn at any time you choose. Mintos sells your notes to other people investing in the same strategy and it can take anywhere from a few minutes to several days, depending on the demand from other investors at the time and market conditions.
What methods can I use to fund the account?
Funds can be deposited into the account via bank transfer from your bank account in the Netherlands. The funds will be reflected in your Mintos account within a maximum of 3 working days for SEPA transfers and 3-5 working days for SWIFT transfers.
Is it safe to invest in Mintos?
Investing in Mintos is relatively safe, but investing in P2P personal loans is never risk-free. One of the features that makes Mintos a safer platform compared to others is that they obtained an investment firm licence in 2021, the first platform of its kind to receive such a licence. This aspect is crucial to ensure the safety of investors' money, as it implies that they must comply with a strict set of rules to manage investors' money.
Because Mintos is subject to regulation, all funds held on the platform that are not invested in a loan are backed by an investor compensation scheme, with a guarantee of up to €20,000. In addition, all notes offered by Mintos have a repurchase obligation, meaning that if the loan is more than 60 days overdue, the lender must repurchase the loan for its face value plus accrued interest. In the past, not all lenders have complied with this obligation, so diversify and choose highly rated lenders.
Finally, as I mentioned earlier, the fact that it is the largest platform in Europe and has numerous loan originators makes it very easy to have a very diversified portfolio on Mintos, which further reduces your investment risk.
How do I start?
To invest in Mintos, you must first create an account on their website. You can open your account by clicking on the banner below, if you do so you help support the blog and future articles.
Opening the account will take no more than 5 minutes, after which you will need to verify your identity. Once you open the account, you will be asked to pass a short test so that Mintos can get to know a little about your financial situation, knowledge, experience and investment objectives.
Once you have created and verified your account, you can view the loans available and choose one of their investment strategies or create a customised one.